by Matt Wright , Filed under: Interview,Trek Franchise , comments closed
A new radio interview with Gene Roddenberry has surfaced on YouTube.
Texas Radio Hall of Famer Scott Arthur was cleaning out some boxes of old interviews from his illustrious career when he came across this lost interview he did with Gene Roddenberry from 1973. Roddenberry, the creator of Star Trek spent almost a half hour talking with Arthur about Star Trek, pushing boundaries and the future of humanity.
Listen below:

by Kayla Iacovino , Filed under: Celebrity,Conventions/Events/Attractions , comments closed
It is with a heavy heart that I report the passing of Thomas Deishley, known to Trek fans as General Motog from Star Trek: The Experience in Las Vegas. Deishley was found dead in his home in Las Vegas from an apparent gun shot wound. He was found during a welfare check after friends reported that they had not been able to get a hold of him for several days. Police say there was evidence of a break-in. Friend of Deishley and Star Trek: The Experience historian Vernon Wilmer recently posted a video tribute to Tom. Click more to see it, but have your tissues ready.
(more…)
by Matt Wright , Filed under: Celebrity,Fandom,Humor,Viral Video/Mashup/Images , comments closed
New Takei cologne "Eau My"
George Takei has joined the long list of celebs who have released their own fragrance.
The name of the cologne is of course a take on his catchphrase  "oh myyyyy"
It is described thusly:
Set Phasers to Stunning. George Takei's Eau My is a clean, refreshing fragrance for Men and Women. Subtle and charming, with top notes of mandarin zest, Italian bergamot and fresh ozone transitioning to night-blooming jasmine, white freesia petals and grated ginger. Sensual woods, crystalized amber, soft skin musk, and vetiver will delight you when dry.
It will be released December 15th, it is available for pre-order at Amazon.
by Kayla Iacovino , Filed under: Memorabilia,Merchandise,Trek Franchise , comments closed
Trekland's Larry Nemecek (aka Dr. Star Trek) has just released his second CD in the On Speaker series in which Nemecek has digitally preserved hours and hours of anecdotes and stories from Trek legends such as Michael Piller, Mark "Sarek" Lenard, Bob Justman, and more. All of the content is never-before-released material that has been sitting on cassette tapes in a box in some forgotten corner for decades. In the newly released VOL. 2: " 'All Good Things…': Words and Deeds", you'll hear stories from Ron D. Moore, Brannon Braga, and others in their own voices in Spring 1994. Hit the jump for more and info on how to snag yourself this little piece of Star Trek history.
(more…)
by Matt Wright , Filed under: Interview,Trek Franchise,Trek on TV , comments closed
Trek alum Bryan Fuller was out doing press interviews for the second season of his show Hannibal when his love for Star Trek came up with Crave Online. Fuller worked on the writing staff of Deep Space Nine and Voyager before creating critically acclaimed shows such as Dead Like Me and Pushing Daises. Click on for more.
by Jared Whitley , Filed under: Editorial,Trek Franchise,Trek on TV , comments closed
In The Icarus Factor, Riker is offered his own ship and we meet his father for the first (and only) time. But the episode is better remembered for the subplot, where Worf is in a particularly grouchy mood. He yells "Enough!" at Wesley and "Be gone!" to Data, who – with his trademark gentleness – describes the Klingon as "out of sorts." Worf's friends determine that the only solution to his foul spirits is to hit him repeatedly with pain sticks:
I have been reminded of this episode as I've followed the recent furor over Star Trek Into Darkness. Just as Worf wasn't really mad at his crewmates, I believe that much of the anger toward STID has nothing to do with the film: fans are angry because they have to wait four years to see a new movie when what they really want is new episodes every week.
(more…)
by Nancy Garrett , Filed under: Conventions/Events/Attractions,Fandom,Trek Franchise , comments closed
Imagine this scenario: A massive ship rests in its dock as the crew prepares for departure. Orders are given and acknowledged. A course is laid. Whistles echo through the decks. Dock lines fall to the side, and the ship clears the last mooring. What happens next? Is this a warship cutting through ocean waves headed for the Mediterranean? Or is this a starship disappearing in a warp speed flash of light headed for strange new worlds? Their missions may be entirely different but similarities between today's military and Star Trek's Starfleet remain evident. On the program of Creation Entertainment's Star Trek Convention Las Vegas last month, a panel of veterans presented and discussed military aspects of Star Trek and similarities between Starfleet and the armed forces.
by "The Stig" , Filed under: Editorial,Trek Franchise , comments closed
Joseph Dickerson's "Star Trek is Broken" editorial has caused quite a stir among the Trek community. One person who had a response to this was TrekBBS member "The Stig", his clear, concise, and level-headed post got a lot of kudos. He contacted us at TrekMovie and said he'd be happy to flesh it out a little bit more and have us run it as a counter-point. So we present it here as an ongoing dialog about the future of the franchise we all love so much. — The TrekMovie Staff
by TrekMovie.com Staff , Filed under: Trek Franchise , comments closed
It was on September 8th 1966 that Star Trek debuted on NBC in the U.S.A.
The episode chosen to be broadcast first was actually the fifth produced – "The Man Trap".
Also, as commenters have pointed out, happy 40th anniversary to Star Trek: The Animated Series, serendipitously, it too debuted on September 8th in 1973
So fire up Netflix, Amazon Instant, Hulu Plus, Star Trek.com, or your DVD or Blu-ray copy of TOS and celebrate!
by TrekMovie.com Staff , Filed under: Trek Franchise , comments closed
As some may be aware, TrekMovie staffers were mostly out of touch for a couple of weeks recently. Here is a round up of Trek news bits. We mourn the passing of Dahar Master Kang (AKA Michael Ansara), Breaking Bad references Trek in a drug haze, and a new book about the making of TOS debuted. Read on for more.
by Nancy Garrett , Filed under: Conventions/Events/Attractions,Fandom , comments closed
It took two separate panels to accommodate the Star Trek: Deep Space Nine 20th Anniversary Reunion at Creation Entertainment's Las Vegas convention August 11. Creation assembled a nearly complete cast of 16 DS9 main cast members for the commemorative event. And in between panels, when writer-producer Ira Steven Behr walked on stage with the cast, the scene brought hundreds of camera flashes in Rio Resort and Casino's main theater. You don't have to be a die-hard DS9 fan to appreciate these increasingly rare convention reunion moments. Fans, actors — even sideline observers can't help but get a little choked up. Who knows when, where or if an ensemble like this will be on the same stage together again?
by Nancy Garrett , Filed under: Conventions/Events/Attractions,Fandom , comments closed
Amid chants of  "USA! USA!" and with a surprise entrance by Terry Farrell (Jadzia Dax on Star Trek: Deep Space 9), Star Trek Las Vegas fans Saturday night recaptured the Guinness World Record for most Star Trek costumes in one location for the USA. They did it with plenty of time and a few Trekkies left to spare.
by Nancy Garrett , Filed under: Conventions/Events/Attractions , comments closed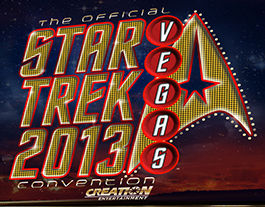 Star Trek Las Vegas is coming up fast! Do you remember your first Star Trek Convention? If you were like me (a convention newbie in 2011), for your first convention you wanted just three things: to see everything, do everything and know everything. In an attempt to be the most prepared as possible for my first convention, I searched the Internet for any advice or tips I could find for Trek convention-goers. Some of you may remember asking the same questions: Do I need to wear a Starfleet uniform? Do I need to dress up as a Klingon? Do I need to learn the Klingon language? Do I need to eat gagh, drink blood wine and participate in mating rituals? (Okay, maybe not the last one.) Well, this blog post is NOT an attempt to answer those questions, but I can offer a few tips to those who are new to the convention. And these tips may be useful to those of you who are 'con veterans' but are new to next week's event, which runs August 8-11.
(more…)
by Nancy Garrett , Filed under: Conventions/Events/Attractions,Fandom , comments closed
Thousands of Star Trek fans will be convening in Las Vegas in August again, to listen to celebrity panels, bid on memorabilia, attend planetary science discussions, stand in lines for autographs and photo ops, and debate the merits of the latest Star Trek motion picture. And again this year, they will attempt to break a Guinness World Record for most people dressed in Star Trek costumes at one location. Hit the jump to learn more about the record attempt and its history.
(more…)
by Geri Schear , Filed under: Trek Franchise , comments closed
With today's release of Star Trek into Darkness in the US American reviews been arriving on an almost hourly basis, ticking up the Rotten Tomatoes ranking to 87% – the highest for any 2013 wide release. See below for more details and some excerpts of some of the praise (and pans) from the top US critics. We also have a Box Office prediction update. [UPDATED: RT rating went up 1% during Thursday]
by Anthony Pascale , Filed under: Trek Franchise , comments closed
Paramount has provided us with a couple of "B-Roll" videos showing a lot of the behind the scenes activity on Star Trek Into Darkness. The videos are just raw footage (and all bits don't have audio), but it is a great way to get a peek inside how the film is made. Watch them below (spoilers).

(more…)
by Thorsten Wulff , Filed under: Celebrity,Conventions/Events/Attractions,Star Trek Into Darkness,TrekMovie.com , comments closed
At the Berlin Star Trek Into Darkness premiere the celebrities spent most of their time taking pictures, being interviewed for the live webcast and talking to the big national TV press. But a few took a moment to stop by TrekMovie.com's spot to just say before being whisked away by the PR people. See the video below for JJ and stars sending a greeting to TrekMovie readers.
(more…)
by Anthony Pascale , Filed under: Trek Franchise , comments closed
On Thursday Star Trek Into Darkness has its world premiere in London – with a press event over the weekend. TrekMovie will be there. We also want to give fans a chance to ask JJ Abrams and his cast a question. Details below.
(more…)
by TrekMovie.com Staff , Filed under: Trek Franchise , comments closed
Even at age 82 you cannot stop William Shatner. His show "Weird or What" (previously seen on Discovery Channel and History Canada) debuts on the Syfy channel Tuesday night at 9PM. Watch Star Trek's original Kirk in a couple of "Weird" promo clips below.
(more…)
by TrekMovie.com Staff , Filed under: Celebrity,Conventions/Events/Attractions,ST09 Cast,Star Trek Into Darkness , comments closed
Last night we reported on footage from Star Trek Into Darkness from CinemaCon 2013 in Las Vegas. We now have video of Damon Lindelof, Chris Pine, Alice Eve, Zachary Quinto and John Cho talking about the movie before they showed the footage. Watch that below plus some interview clips with the group.
(more…)