by Nancy Garrett , Filed under: Conventions/Events/Attractions , comments closed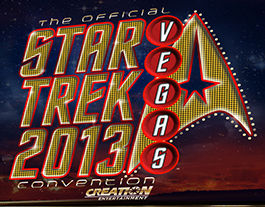 Star Trek Las Vegas is coming up fast! Do you remember your first Star Trek Convention? If you were like me (a convention newbie in 2011), for your first convention you wanted just three things: to see everything, do everything and know everything. In an attempt to be the most prepared as possible for my first convention, I searched the Internet for any advice or tips I could find for Trek convention-goers. Some of you may remember asking the same questions: Do I need to wear a Starfleet uniform? Do I need to dress up as a Klingon? Do I need to learn the Klingon language? Do I need to eat gagh, drink blood wine and participate in mating rituals? (Okay, maybe not the last one.) Well, this blog post is NOT an attempt to answer those questions, but I can offer a few tips to those who are new to the convention. And these tips may be useful to those of you who are 'con veterans' but are new to next week's event, which runs August 8-11.
(more…)
by Matt Wright , Filed under: DVD/Blu-ray,Review,TNG Remastered , comments closed
Along with the boxed set of Season 4, the single disc release of the two-part cliffhanger "Redemption" is also available starting today in the US. Like The Best of Both Worlds that was released with Season 3, both parts have been edited together to make one 90-minute TV movie.
by Matt Wright , Filed under: DVD/Blu-ray,Star Trek Into Darkness,TOS,TOS Remastered , comments closed
To coincide with the release of Star Trek Into Darkness on Blu-ray, CBS and Paramount have teamed up to offer a new "best of" TOS Blu-ray disc release available the same day as the Blu-ray release of Star Trek Into Darkness, September 10. This includes various "prime universe" episodes that are related to the characters or themes of Into Darkness in some way. It naturally includes "Space Seed" for the introduction of Khan and "The Cage" for a look at Pike as captain, and more. There is a little bit of new content on this disc, there are new video introductions recorded by Rod Roddenberry. Plus an announcement of new TOS DVD packaging.
by Matt Wright , Filed under: DVD/Blu-ray,Star Trek Into Darkness , comments closed
The dates for the U.S. home video release of JJ Abrams' Star Trek Into Darkness have been announced. It comes earlier than expected. Paramount is also trying something other studios have been toying with in the last year or so by offering an earlier release date of August 20, 2013 for the digital download version, compared to the physical disc releases that come a few weeks later on September 10 , 2013.
UPDATE: Official cover art has been released
by Nancy Garrett , Filed under: Conventions/Events/Attractions,Fandom , comments closed
Thousands of Star Trek fans will be convening in Las Vegas in August again, to listen to celebrity panels, bid on memorabilia, attend planetary science discussions, stand in lines for autographs and photo ops, and debate the merits of the latest Star Trek motion picture. And again this year, they will attempt to break a Guinness World Record for most people dressed in Star Trek costumes at one location. Hit the jump to learn more about the record attempt and its history.
(more…)
by Joseph Dickerson , Filed under: Editorial,Star Trek Into Darkness , comments closed
As readers of this site know, Star Trek Into Darkness opened domestically and internationally late Spring and has earned over $443 million dollars. This is a success for Paramount, albeit a modest one. It's not a flop, by any measure… but it's not a home run, either. It's a solid double or triple, but Paramount (like all studios do with summer blockbusters) was swinging for the fences. So, what's next? Well, to quote Donald Rumsfeld, there are some "known knowns" and "known unknowns." Let's cover what we know, and spend some time theorizing what comes next.
(more…)
by Matt Wright , Filed under: DVD/Blu-ray,ENT,TNG Remastered , comments closed
A welcome unannounced gift appeared on CBS Home Entertainment's YouTube channel last week in the form of a Star Trek: The Next Generation Season 5 trailer for the remastered Blu-ray edition. After the break we've also got the trailer for the imminent releases of the TNG Season 4 set and the single-disc edition of the Season 4/5 cliffhanger Redemption along with full details on the July releases. Plus the Enterprise Season 2 trailer!
by Joseph Dickerson , Filed under: Editorial , comments closed
"We are locally optimistic, and globally pessimistic."
The creator of Star Trek Gene Roddenberry did not share this "globally pessimistic" point of view. Instead, he was incredibly optimistic about our future, about the human potential. "We're just beginning," he said in an interview shortly before his death. "We have wonders ahead of us. I don't see how it can be any other way, with the way the future is going. We now have got a telescope up there, photographing the universe. We're inventing the next life form, the computer. We're in the midst of it. And it will happen." According to Roddenberry, the future we see in Star Trek is not just possible but probable. How so? Read on…
(more…)
by John Tenuto , Filed under: Merchandise,Music,Review,Star Trek Into Darkness , comments closed
While Star Trek films have had 8 different directors (Wise, Meyer, Nimoy, Shatner, Carson, Frakes, Baird, and Abrams), the composer club is slightly more exclusive with six (Goldsmith, Horner, Rosenman, Eidelman, McCarthy, and Giacchino). It is arguable that amongst all the behind the scenes artists, the composer has the most power to influence the emotional energy of a film, perhaps even more than the director or cinematographer. The music influences what the audience feels, and when it is done right, it enhances the actor's performances, the director's vision, and the cinematographer's created mood. When the music fails to resonate, it harms a film through distraction or obvious manipulation. Michael Giacchino's music for Star Trek Into Darkness is one of the former soundtracks, helping to enhance the story and giving STID additional emotional life. Hit the jump for our full review of the Star Trek Into Darkness sound track.
(more…)
by John Tenuto , Filed under: Collectibles,Electronics/Gadgets,Merchandise,Toys , comments closed
Star Trek figurines have been a staple of fan collections since the 1970s, with companies making everything from paint-your-own Star Trek: The Motion Picture plastic figurines to brand new resin Gorn figurines from the Star Trek Video Game. Advances in 3D Printing technology, however, have made it possible for fans to now become Star Trek figurines themselves. TrekMovie looks at the results.
(more…)
by Kayla Iacovino , Filed under: Celebrity,Science/Technology,Web , comments closed
Trek celebs are lining up to support a Kickstarter-funded project called ARKYD, a space telescope designed to be funded and used by the public, whose fully funded campaign ends in less than 60 hours. The first ever publicly available space telescope is luring donations with the enticing reward of a "space selfie". That's right, if you send them a picture of yourself (or your boyfriend, or your dog, or your favorite breakfast cereal…) they will display it on an onboard LED screen and snap a pic of your photo floating above the glorious blue orb we call Earth. What's more, you can donate more and use the space 'scope to point in any direction of your choosing or donate your observation time to science and follow along with the scientists' findings. Brent Spiner, Robert Picardo, and Rod Roddenberry are among the many, many backers of the project, which at the time of writing has already raised over $1.2 Million. Check out the videos of Trek celebs supporting ARKYD after the jump.
(more…)
by Matt Wright , Filed under: DVD/Blu-ray,ENT , comments closed
The official announcement has been made of the second season of Enterprise in high definition on Blu-ray. The clear standout of the set looks to be "In Conversation: The First Crew" where the Roger Lay Jr. the producer of the Enterprise sets has managed to get the main cast together for a chat. If this is anything like the great conversational interviews done for TNG and ENT Season 1 we should be in for a treat!
Click on for full disc-by-disc details from the press release.
by TrekMovie.com Staff , Filed under: ST: Into Darkness Sequel,Star Trek Into Darkness , comments closed
With Into Darkness out for more than a month, here are a few news items about the movie and the possible sequel, along with a place to continue discussion about the movie.
UPDATE: General discussion of STID has now moved to its own page.
http://trekmovie.com/into-darkness-open-discussion/
by Matt Wright , Filed under: Fan Productions , comments closed
The fan production Star Trek Continues, a new TOS era fan film led by anime voice actor Vic Mignogna as Kirk and features Chris Doohan as Mr. Scott (his Dad's old job), Trek author Larry Nemecek, and Mythbuster Grant Imahara as Mr. Sulu, has now completed their first episode "Pilgrim Of Eternity". As previously reported, it features the return of original actor Michael Forest as Apollo. Keep a look out for a cameo by BSG's Jamie Bamber, Trek art department alum Doug Drexler as the holographic cowboy, and the voice of the ship's computer sounds pretty familiar too. Click on to see the episode.
by TrekMovie.com Staff , Filed under: Star Trek Into Darkness , comments closed

Vote and chat about Star Trek Into Darkness during the second week of US/Canadian release in this sticky open thread. (more…)
by Matt Wright , Filed under: Star Trek Into Darkness , comments closed
Star Trek Into Darkness is headed into its second weekend and our own polling shows that many fans plan to see the movie a second (third, fourth, etc.) time. And with repeat viewings there are opportunities for you to spot some little fun 'easter egg' tidbits put into the movie. See below for our selection of Into Darkness easter eggs, but beware of spoilers.
by Anthony Pascale , Filed under: Collectibles,Merchandise,Replicas,Star Trek Into Darkness , comments closed
Replica maker Quantum Mechanix has announced that they had a role to play in Star Trek Into Darkness, actually making some of the props used in the film. And they are making some of these available to purchase including Starfleet rings, vehicle model replicas, phasers and more. Get all the details below.
by TrekMovie.com Staff , Filed under: Star Trek Into Darkness , comments closed
This week has seen the final stop of the Star Trek Into Darkness celebrity talk show tour with Alice Eve and JJ Abrams appearing on Conan on Tuesday and Wednesday respectively. And last night's Abrams appearance including his revealing of a bit of a deleted scene of Benedict Cumberbatch's "shower of evil." Watch it below
(more…)
by Kayla Iacovino , Filed under: Editorial,Star Trek Into Darkness , comments closed
As per usual Star Trek Into Darkness has sparked much fan discussion and even disagreement, but but if there's one thing we can all agree on: we love seeing Alice Eve in her undies! True, of course, until anyone bothered to ask a woman. There has always been scantily clad females throughout Trek history – it's a part of what makes Kirk so Kirk – so, why should this one scene be causing such a stir? Why have female fans responded so strongly in this case? Read my analysis below, but beware of SPOILERS.
(more…)
by Daniel Broadway , Filed under: Star Trek Into Darkness , comments closed
In honor of the recent release of Star Trek Into Darkness, The History Channel has aired a special documentary titled "Star Trek: Secrets of the Universe." Originally broadcast last Wednesday, May 15th, the special is now available on History Channel's website via streaming for free. See below for mini-review and screenshots plus a link to more BTS with ILM.
(more…)