Happy Friday the 13th, everybody! While you're avoiding black cats and walking under ladders, why don't you read up on the newest in science news? This week, learn what happens when spacecraft collide, magnetars make astro-fireworks, doctors make like McCoy, and 40,000 year old bones come to life. All this and more plus our gadget of the week: The Ponginator.
Debris Spews Into Space After Satellites Collide
Russian and US satellites were destroyed Tuesday in the first ever satellite collision, and their massive debris clouds may threaten other spacecraft in lower orbit. The smashup occurred over Siberia when a derelict Russian military communications satellite — said to be "out of control" — crossed paths with a U.S. Iridium satellite. NASA said it will take weeks to determine the full magnitude of the crash, which occurred nearly 500 miles (800 kilometers) over Siberia. There have been four other cases in which space objects have collided accidentally in orbit, NASA said. But those were considered minor and involved parts of spent rockets or small satellites.
Magnetar Creates Intergalactic Fireworks Show
This week, NASA's Swift Satellite observed frequent blasts from a stellar remnant 30,000 light-years away. This remnant is known as a magnetar – a neutron star with an unusually powerful magnetic field. Such objects unpredictably send out a series of X-ray and gamma-ray flares. In addition to the tremendous amounts of energy this thing is putting out, it creates a lovely sky show for astronomers who know what to look for. Known as "light echoes", the intergalactic fireworks are created by X-rays emitted by the magnetar which bounce off of clouds on their way to Earth. While this obfuscates the ability to accurately measure a distance to SGR J1550-5418 (as it is formally known), it does allow for the creation of some very cool movies and images.

SGR J1550-5418 creates quite a stir in the heavens
"Star Trek" Healing Laser Better Than Stitches
"It's science fiction made real," a doctor from Tel Aviv University told Reuters, as he demonstrated how a new laser the university has developed is better than stitching up a patient. The laser allows a wound to be welded shut as opposed to sutured, which makes it far more watertight and there's less tearing. It's done by very carefully controlling the temperature of the beam, and Israeli patients treated with the laser have already enjoyed faster healing times and less scarring.
Scientists Create Genetic Blueprint of Neanderthal
An international team Thursday said it has completed a draft of the genome (or genetic blueprint) of Neanderthals, which shows that our extinct cousins made "very little, if any" contribution to human genes. This genome was stitched together from fossil DNA samples taken from four Neanderthals found in Europe. Neanderthals occupied Europe from about 800,000 to 30,000 years ago. Scholars have long argued over their extinction, and their relationship to people. "I think it is spectacular, to get something out of bones 40,000 years old; absolutely stunning," says one anthropological geneticist.

40,000 year old bones shed new light on human history
13 Facts About Friday the 13th
Today is Friday the 13th — the day rumored as the unluckiest of the year. To commemorate the event, we've gathered 13 facts about this very day. Just make sure to knock on wood after reading them. Oh, and don't walk under any ladders or break any mirrors.
The British Navy built a ship named Friday the 13th. On its maiden voyage, the vessel left dock on a Friday the 13th, and was never heard from again.
The ill-fated Apollo 13 launched at 13:13 CST on Apr. 11, 1970. The sum of the date's digits (4-11-70) is 13 (as in 4+1+1+7+0 = 13). And the explosion that crippled the spacecraft occurred on April 13 (not a Friday). The crew did make it back to Earth safely, however.
Many hospitals have no room 13, while some tall buildings skip the 13th floor.
Fear of Friday the 13th — one of the most popular myths in science — is called paraskavedekatriaphobia as well as friggatriskaidekaphobia. Triskaidekaphobia is fear of the number 13.
Quarterback Dan Marino wore No. 13 throughout his career with the Miami Dolphins. Despite being a superb quarterback (some call him one of the best ever), he got to the Super Bowl just once, in 1985, and was trounced 38-16 by the San Francisco 49ers and Joe Montana (who wore No. 16 and won all four Super Bowls he played in).
Butch Cassidy, notorious American train and bank robber, was born on Friday, April 13, 1866.
Fidel Castro was born on Friday, Aug. 13, 1926.
President Franklin D. Roosevelt would not travel on the 13th day of any month and would never host 13 guests at a meal. Napoleon and Herbert Hoover were also triskaidekaphobic, with an abnormal fear of the number 13.
Superstitious diners in Paris can hire a quatorzieme, or professional 14th guest.
Mark Twain once was the 13th guest at a dinner party. A friend warned him not to go. "It was bad luck," Twain later told the friend. "They only had food for 12."
Woodrow Wilson considered 13 his lucky number, though his experience didn't support such faith. He arrived in Normandy, France on Friday, Dec. 13, 1918, for peace talks, only to return with a treaty he couldn't get Congress to sign. (The ship's crew wanted to dock the next day due to superstitions, Fernsler said.) He toured the United States to rally support for the treaty, and while traveling, suffered a near-fatal stroke.
The number 13 suffers from its position after 12, according to numerologists who consider the latter to be a complete number — 12 months in a year, 12 signs of the zodiac, 12 gods of Olympus, 12 labors of Hercules, 12 tribes of Israel, 12 apostles of Jesus, 12 days of Christmas and 12 eggs in a dozen.
The seals on the back of a dollar bill include 13 steps on the pyramid, 13 stars above the eagle's head, 13 war arrows in the eagle's claw and 13 leaves on the olive branch. So far there's been no evidence tying these long-ago design decisions to the present economic situation.
Happy (early) Valentines Day, from XKCD
XKCD wants to wish you and yours a very happy V-Day with this Sierpinski Valentine.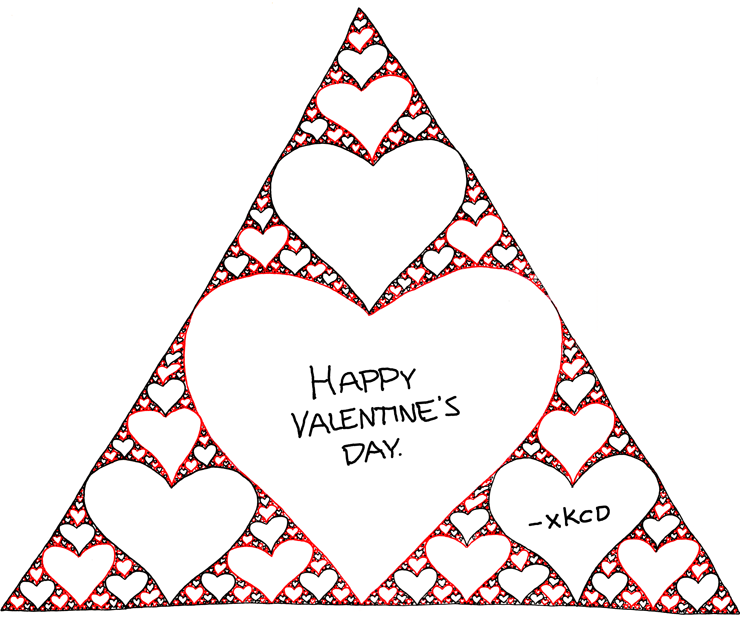 Extra points if you print this out and give it to your girlfriend
Gadget of the Week: 3-Story-Tall Ponginator Shoots Ping Pong Balls That Can Kill a Man
For some reason, some engineering types in Texas decided to build a gigantic monstrosity of a robot that can shoot Ping Pong balls at 170 mph, fast enough to kill. All I'm wondering is, um… why? Oh, and if you listen closely to the below video, you might here a certain familiar binging sound. Yep, that's definitely the TOS bridge chirp.
Science Quickies
Here's a warp-speed look at science tid-bits that didn't quite make the cut, but nonetheless merit mention.