In this week's Sci-Fi Movies column brings new looks and news for the upcoming Superman and Spider-man reboots. There is also a big update and previews from Thor, an Alien tie-in for Prometheus, and details on X-Men First Class. All that plus more, including the latest casting bites, images and videos, including a peek at an alien from Green Lantern.
GENRE MOVIE NEWS
Superman: The Man of Steel casting rumors: Jonathan Kent and General Zod
Now that Henry Cavill has been cast as Superman we can move on to some of the other key roles yet to be filled in the Zack Snyder-directed / Christopher Nolan-produced "Superman: The Man of Steel". This week we have two big rumors on that front. Despite the constant denials from the crew, it's appearing more and more likely that Zod will be the main villain with Heat Vision | THR now reporting that Viggo Mortensen is at the top of the list to play General Zod. In other casting news, Latino Review has followed up on Deadline's scoop to report that Kevin Costner is at the top of the list to play Jonathan Kent. Heat Vision stresses that neither actor has closed their deal, and in fact, they aren't the only actors being
considered for their respective roles, just the "ones most seriously talked about". "Superman: The Man of Steel" is scheduled to hit theaters in December 2012.
Henry Cavill on the cover of Entertainment Weekly [PopWatch | EW]
Spider-Man reboot gets title: The Amazing Spider-Man
Sony/Columbia has announced that the upcoming "Spider-Man" reboot/remake will be called "The Amazing Spider-Man". It was also announced that Marc Webb will be directing the film with 3D cameras. Sony also released a brand new image of Andrew Garfield in full "Spider-Man" costume.
In other news, in an interview featured in the latest issue of Entertainment Weekly executive producer, Avi Arad surprisingly seemed to indicate that the film won't be as much a reboot as previously expected [via ThinkMcFlyThink]:
"Exec producer Avi Arad says the film won't erase what came before but will try to weave a narrative that could take place within the framework of the earlier films. 'It's not a comeback,' he says. 'You have to look at it this way: Do you want to know more about Spider-Man? This movie is going to tell stories that you didn't see in movies 1, 2, and 3.' "
"The Amazing Spider-Man" is scheduled to hit theaters on July 3, 2012 just four days after the "Star Trek" sequel.
James McAvoy talks playing Xavier in X-Men: First Class
James McAvoy says he hasn't concerned himself over the idea that he's "replacing" Patrick Stewart in Matthew Vaughn's "X-Men: First Class": [Hero Complex | LA Times]:
Hero Complex: You and [Michael Fassbender] each have a challenge — Patrick Stewart and Ian McKellen are towering figures in the sci-fi and fantasy sector, and I imagine stepping into their roles must give you pause. Do you think a lot about Stewart's work in this role, either as a place to begin or a place to avoid?

James McAvoy: I don't think about it too much. This isn't a reboot, so I'm not replacing anyone, in which case you might want to try to be as different as possible and stay away from what has been done before. This is a prequel, so I'm the same character, just younger, but the challenge for me — and for Michael — is to show the same person in a different place in their life, to show someone before they're this bad guy, before they're this saint. Charles wasn't always a … monk, this selfless, sexless monk that he becomes.
McAvoy also discussed the friendship between Charles and Erik:
It's kind of a love story, like "Butch Cassidy and the Sundance Kid," which, really, was a love story between two men. This is the first time in their lives they've met someone who is an equal of sorts, someone who understands them and can connect and push them too. Especially Charles, he's fascinated with Erik and his potential. For Erik, Charles is the first person he's trusted to really tell about his past and the first person to understand the horrible things he's been through.
Check out the rest of the interview here. In other news, January Jones, who plays Emma Frost in the film, confirmed reports that production has been rushed and that filming hasgone over schedule in order to meet the June 3, 2011 release date [via The Playlist | indieWIRE]:
"Poor (director) Matthew Vaughn is going to have to edit it in three days," Jones joked. "That's been a blast…I think it was unrealistic for them to think they were going to make such a huge movie in whatever we had — two months or something…The fact we've had to push the wrap date but they haven't moved the release date is really interesting to me…I have a lot of faith in Matthew as a director and an editor; I think his movies are great. And I think they've been cutting as we've been going. We should be fine."
Damon Lindelof/Ridley Scott's Prometheus to feature "Alien" Space Jockey
The Space Jockey skeleton that appeared in the opening of "Alien" is now confirmed as being a part of the the Ridley Scott-directed / Damon Lindelof-scripted "Prometheus", Sky Movies is reporting that the character is "being designed under the guidance of original Alien designer HR Giger:
"There has been a huge amount of speculation over the past months as to what will and won't appear in the movie, but an insider told Sky Movies, "I've had further confirmation that the Space Jockey creature is definitely in Prometheus and has been built as an eight foot animatronic. "

'I've also had it confirmed that HR Giger is working on the project but only in an advisory capacity. By the way, people are going to be in for a shock when they sit down to watch Prometheus and there's an enormous semi-human head piloting a spaceship.' "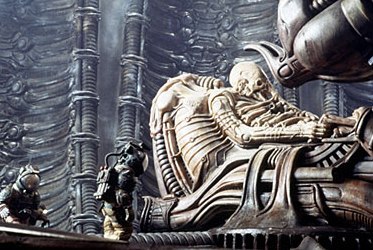 Space Jockey in "Alien" – to feature in "Promentheus"
Here's an interview with star Michael Fassbender who says despite the project being described as an "original story", it's still "absolutely connected to "Alien" [Movies Blog | MTV]:
Check out another interview with Fassbender at EW. In casting news, 20th Century Fox has confirmed that Charlize Theron has joined the cast, while Daily Mail is reporting that Idris Elba, Sean Harris and Kate Dickie have also been added to the cast — joining previously cast Noomi Rapace in the film, which is set to hit theaters on June 8, 2012.
Kenneth Branagh talks THOR + New trailer and images
Kenneth Branagh spoke with EW about the upcoming Marvel Studios film "Thor". Here are a couple excerpts from their interview. First up, Branagh talked about the film's tone and how the humor is used:
I was convinced when it was in development that part of this happening on contemporary Earth was absolutely the right way to go. And with the fantastical element we're asking people to go along with, one way to help that happen, and allow it to be dramatic and serious when it needs to be, is to have a sense of humor about it. The film was never designed to be portentous or self-important. It wants to have a really good time enjoying the consequences of the culture clash.
Branagh also spoke about casting Chris Hemsworth as Thor, specifically the actor's role in J.J. Abrams' "Star Trek":
[Star Trek's] a marvelous film, with a brilliant opening to it, and it relied on a character we see only briefly suggesting depth of concern and passion for his wife and soon-to-be-born son that we could identity with. He needed, just by virtue of sitting there, to act nobly in action to convince us that he was the great father that Jim Kirk was going to have to live up to and be inspired by. He used good economy in that small part. In terms of the kind of self-knowledge and complexity that we knew Thor might arrive at, we knew Chris could convey that. He's immense, magnificent and massive as a physical being, but there's a lot going on in those eyes, and a lot conveyed in the atmosphere of the man.
Click on over to EW to read the rest of the interview. Meanwhile, CHUD scored an interview with writer Don Payne who detailed the process of how the script came together:
"…J. Michael Straczynski and Mark Protosevich worked on the project before Kenneth Branagh came on board to direct. At that point, Ken and Marvel sat down and decided exactly what kind of story they wanted to tell. They took everything that had been written so far and figured out a game plan. Marvel then hired Ashley Miller and Zack Stentz, and, as I understand it, those guys worked pretty intensely on the screenplay over the course of four or five months. After they left the project, Marvel hired me, and I stayed on all the way through the end — about a year and a half total. For the first eight months, I continued to develop, rewrite, and restructure the screenplay, bringing in new characters and new scenes. I worked closely with Ken and Marvel throughout the process, and, as the cast came together, I worked with Ken and the actors during rehearsals here and in London."
Payne also added that his work on the script didn't end at pre-production. Payne says that once production started in January 2010, he remained "on set writing every day, both at the studio in Manhattan Beach and on location in New Mexico, and continued to work through post-production." Be sure to check out the rest of CHUD's extensive interview with Don Payne at this link. "Thor" is scheduled to hit conventional and 3D theaters on May 6, 2011.
Promotional stills [Marvel.com]
Movie trailer [Yahoo! Movies]
Bill Murray still hasn't read Ghostbusters 3 script
Bill Murray was on The Howard Stern Show Tuesday morning and revealed that he still hasn't read the script to "Ghostbusters 3". Here's an excerpt from the interview [via ScreenRant]:
Howard Stern: Is it true that there is a Ghostbusters 3 and that you're the problem and you will not sign off on this? Do you know about this?

Bill Murray: Yeah, I guess I'm the problem. Before I was an asset, [but] now I'm a problem. There's a script somewhere [on my desk], but I haven't read it yet.
Elloborating on his apprehension towards moving forward with the third film, Murray linked back to his unhappiness with how "Ghostbusters 2" turned out:
"…I only made one sequel and it was Ghostbusters 2 and it didn't end up the way it was presented. About five years after we did the first one, the clever agents got us all together in a room and… They had this pitch and Danny and Harold had concocted some story ideas… and it was a story, it was good story. I think I had even read one or two [scripts for Ghostbusters 2] that Danny had rolled out beforehand, but this one was a good one. I said, "Ok, we can do that one."
Despite his reluctance to do the movie, Murray did tell co-host Robin Quivers that he still has interest in the movie and will get around to it…eventually:
"Well, I'll get to it… I gotta get to it – I feel bad. I got a message and I think people – I don't want to hurt anyone's feelings – it's not the foremost thing in my mind, so I don't think about it."
Men in Black 3 filming delayed, but release date unaffected
Sony has pushed back the production date of "Men in Black III". The film was scheduled to resume shooting on March 28, but ongoing script issues has resulted in the delay. Production on the film is actually broken into two phases, as 24 Frames | LA Times explains:
The delay comes on the heels of a previous postponement and hiatus. The Will Smith sequel was initially set to start shooting in October. But producers delayed the start date by nearly a month (a New York Post report at the time noted creative disagreements between Smith and filmmakers, a report that Sony denied). About a month later, producers opted to break production of the film into two phases: the first part, set in the present, would begin in November and wrap before the holidays (it in fact did that), but the second part, set in 1969, would not begin shooting until mid-February.
In related news, the studio has brought Jeff Nathanson ("Catch Me If You Can") on board the project to re-work the script. Etan Cohen ("Tropic Thunder") previously worked on the script. And lastly, Alice Eve has joined the cast and will play a younger version of Men in Black agency head Olivia (who was played by Emma Thompson). Here's the character's description courtesy Deadline:
The British actress plays Olivia, hired as secretary for the Agency in 1969. While it appears she was given the job because of her looks, Olivia is actually whip smart. Sure enough, in the contemporary storyline, Thompson runs the place. Will Smith's Agent J character is forced to travel back in time to team up with the young Agent K (Josh Brolin) to save the world.
Chris Evans reveals he's signed for six Marvel movies
When Chris Evans was selected to play Captain America in Joe Johnston's "Captain America: The First Avenger" it was initially announced that he would be committing to play the part in up to nine films. But Evans has now revealed that the number of films has been brought down to six:
"It's a big commitment," he tells us. "At one point it was nine pictures. We've got it down to six but still, that's making a decision for a big portion of your life."

"I love acting but there are other things I want to do. I want to write and direct. If the movies do well and they want to exercise all six films, I could be doing this until I'm 40."

"That's a crazy thing to try and process."
In other news, "Captain America: First Vengeance" comic book prequel writer Fred Van Lente confirmed to Newsarama that the film will feature Nazis:
"Captain America: First Vengeance is chockfull of Nazis, particularly once we start getting into Johann Schmidt's origin in chapters 3 and 4. They're not downplayed. Schmidt runs an organization called Hydra, which starts as a part of the Third Reich power structure, and so therefore they are Nazis.

…

It is not some kind of rewriting of world history. There are Nazis in the movie, I've read the script. It is not trying to pretend that the Nazis didn't exist, or that World War II didn't happen the way we all know it from history.
And lastly, here's how Tommy Lee Jones explains his role as Col. Chester Phillips [Vulture]:
The character I play is the one you've seen in a thousand movies: the gruff, skeptical officer overseeing a team of talented, slightly sarcastic, specially talented soldiers.
'Captain America' is scheduled to hit theaters on July 29, 2011.
Promotional stills [more at Marvel.com]
Shane Black will direct Iron Man 3
Marvel Studios has tapped writer Shane Black to direct "Iron Man 3". It's unclear at the moment whether Black will also write the project, but Black's name was mentioned only a few weeks ago and he even confirmed that he was in discussions with the studio for the gig. '"Iron Man 3" is scheduled to hit theaters on May 3, 2013.
PREVIEW Videos & Images
Apollo 18
Teaser trailer [Trailer Addict]
Battle: Los Angeles
Promotional stills [more at IGN]
Final poster [IGN]
Clip: "Boxed In" [YouTube]
TV spot [YouTube]
Cars 2
New characters: Siddeley & Rod "Torque" Redline [via Hey U Guys]
Promotional still [StitchKingdom]
Contagion
Set images [more at Laughing Squid & JustJared]
Dark Shadows
Johnny Depp "won't stray" from Jonathan Frid's portrayal of Barnabas Collins [Movies Blog | MTV]
Dragon Age: Redemption
Teaser trailer for video game web series [YouTube]
Green Lantern
Kilowog (created by Sony Imageworks) [Bleeding Cool]
The Hobbit
Set images [more at TORn]
Limitless
Promotional stills [Movies Blog | MTV]
New poster [FilmShaft]
Paul
Red band movie trailer [IGN]
Robocop
First look at the proposed Detroit statue (click the source link for an interview with the artists) [io9]
Source Code
Movie trailer [Moviefone]
Sucker Punch
Movie trailer [Yahoo! Movies]
SUPER
Final poster [Badass Digest]
Toy Story: Hawaiian Vacation (short)
First look at the upcoming short [EW scans via The Playlist | indieWIRE]
The Twilight Saga: Breaking Dawn Part 1
Promotional still [@Twilight | Twitter]
MISC VIRAL
Predator: The Musical
Music video [YouTube]
ET Sequel: "ET-X"
Impressive Fake Trailer [YouTube]
MOVIE BITES
CASTING BITES
You can follow Russ on his website at Your Entertainment Now and on Twitter at Twitter.com/YourEntNow.