Every year the biggest Star Trek convention is the August Creation Star Trek Con, and this year is no exception. There is an impressive lineup this year to celebrate Star Trek's 45th anniversary with big stars, lots of special events and even some TrekMovie.com hosted fan panels. Plus today CBS announced a special sweepstakes to win the ultimate Star Trek Vegas Con Getaway. Details below.
Vegas Baby: Big Stars + Big Events + TrekMovie panels + more
For 2011 Creation is celebrating the 45th anniversary of Star Trek at the big Star Trek con in Vegas. This year the con, which runs August 11-14, is in a new location (the Rio) and the guest lineup is very impressive, including Star Trek stars William Shatner, Leonard Nimoy, Sir Patrick Stewart, Brent Spiner, Tim Russ, Kate Mulgrew, Connor Trinneer, Dominic Keating, Nana Visitor, Terry Farrell, and many more. There is also an impressive list of guest star actors, including John DeLancie, David Warner, James Darren, Robin Curtis, Clint Howard (Tranya!), and many more.
The weekend will include some special moments, including Shatner and Stewart on stage together, a concert by James Darren, a "Rat Pack" performance (with Grodenchik, Armstrong, Combs, Biggs and Shimerman), Nimoy Photography Seminar, Combs performing Poe, Poetry reading by Visitor and Auberjonois, another attempt to set the record of most Trekkies in costume and more including nightly parties.
And if that isn't enough for you, I will be hosting a series of fan panels (one each day), including one discussing the upcoming Star Trek sequel.
More info at Tickets at www.creationent.com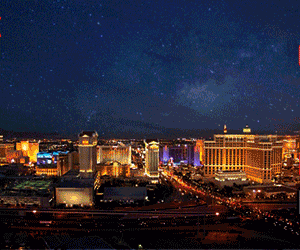 CBS Vegas Con Sweepstakes
Set your phaser to "stunned"! CBS Consumer Products and Creation Entertainment are teaming up to offer Trekkies the chance of a lifetime with the ultimate Star Trek getaway sweepstakes.
The contest will give two lucky cadets a chance to win "Gold Weekend" tickets for the most important Star Trek event of the year: The Official Star Trek Convention 2011 along with a $4,000 prize package that includes:
Two Gold Weekend admission passes to the Convention (SOLD OUT!) that include reserved seats for all major guest appearances, complimentary admission to VIP parties, in-person autographs from 13 Star Trek celebs, a special limited edition collector's coin and more! Details here.
Three nights at The Rio Suites Hotel, where the event is hosted. Check in is August 11 and checkout is August 14.
$2,000 travel and spending money
$100 gift certificate for Creation Entertainment convention merchandise.
To enter into the contest visit www.Facebook.com/StarTrek