Star Trek VI: The Undiscovered Country left a lot of open-ended questions. While there have been a few visits back to that "Lost Era" over the years, none have addressed the medium-term repercussions of the Khitomer Accords and the devastation wrought by the Praxis detonation. That all changes James Sawllow's brand new novel "Star Trek: Cast No Shadow." The TrekMovie review is below.
REVIEW: Star Trek: Cast No Shadow
by James Swallow
Mass-market Paperback – 368 pages
Pocketbooks – July 2011 – $7.99
When a massive explosion rocks the ongoing relief efforts, a Federation intelligence officer, Elias Vaughn (who will be familiar to readers of the Deep Space Nine Relaunch) discovers evidence that begins to contradict the official Klingon version of events. Since a Federation starship was lost in the detonation, the High Council begrudgingly allows another Starfleet ship to visit the system… the Excelsior, under the command of Hikaru Sulu.
Sulu and Vaughn are not alone, however. Joining them is Valeris, the disgraced ex-Starfleeter who served as go-between for Admiral Cartwright during the planning of the Gorkon assassination. Because of the connections uncovered by Vaughn, Valeris becomes a natural asset to the investigation, though Vaughn's estimations of her are about as low as one can be. Commander Miller, the senior Intelligence operative on the mission, seems to hold a slightly milder view toward Valeris, and provides valuable insights for Vaughn's long-term consideration.
Of course, to be interesting, things can't possibly go as planned, and soon, Valeris, Vaughn, and a Klingon Intelligence operative named Kaj are on the run throughout Klingon space, seeking out the real story behind the current carnage, and discovering that all roads lead to annexed world or Krios, a world which has known the heel of Klingon boots for over thirty years.
As Swallow's tale unfolds, he takes the time to journey progressively back in time to discover key points in Valeris' evolution as a person; moments which ultimately give full weight to her actions in the Gorkon conspiracy, and her unapologetic nature when confronted with the truth.

Capt. Sulu and Valeris are back for "Star Trek: Cast No Shadow"
"Cast No Shadow" has plenty of action and offers a wide variety of locales in which to allow one's mind to roam free, but, at the same time, the weaknesses of the story are pretty evident. Much of Valeris' real-time evolution is predictable, and the use of Elias Vaughn, while giving some positive build to his character's overall history, makes even his most serious setbacks in the story feel significantly anti-climactic.
Most disappointing, however, is the root of Valeris' bitterness. Gone is her (albeit flawed) logic seen in Star Trek VI, replaced by stereotypical childhood issues. Also it is surprising how non-relevent Spock is to the story, which is odd considering the prominence with which he is featured on the cover. If you are picking this up as a Spock story, you may as well put it back down. This story is equal parts Elias Vaughn and Valeris, with Spock taking up what can best be described as a 10-page cameo.
I can't say with precision where "Cast No Shadow" lost me; more than half-way through I still saw a large amount of unbridled potential. But slowly, things just fit together too seamlessly and with far too much cliché. Ultimately, while well written and generally engaging, the book comes across as a something of a lost opportunity. Lost Era junkies (such as myself) will want to give it a read to fill in some of the blanks left in that wide gap that precedes Picard's rise to command. Fortunately, it is very difficult to see any major losses to current novel continuity that skipping this book will cause for the average reader.
"Star Trek: Cast No Shadow" is available now at BarnesandNoble.com.
More summer Star Trek reading
There are more new and recent Star Trek novels to keep you going for this summer, including David McIntee's "Star Trek The Next Generation: Indistinguishable from Magic" (TrekMovie review), Star Trek: Voyager: Children of the Storm (TrekMovie review), and the novella collection "Star Trek: Vanguard: Declassified" (TrekMovie review). And if you want a story from the new Star Trek movie universe, there is the just-released "Star Trek: Starfleet Academy: The Gemini Agent," by Rick Barba.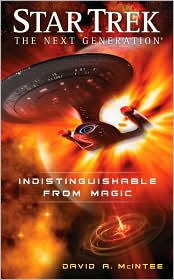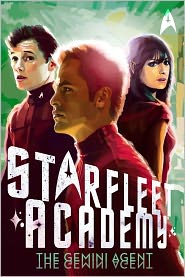 Recently release Star Trek books
And coming up in August is Steve Mollmann and Michael Schuster's "Star Trek: A Choice of Catastrophes," a standalone classic Star Trek novel which finds Dr. McCoy dealing with a mysterious illness which incapacitates the crew.

The next Star Trek novel – due in late August
(not final cover)
Pocket Books provided TrekMovie with a copy of this book for review.