Thousands of Star Trek fans will be convening in Las Vegas in August again, to listen to celebrity panels, bid on memorabilia, attend planetary science discussions, stand in lines for autographs and photo ops, and debate the merits of the latest Star Trek motion picture. And again this year, they will attempt to break a Guinness World Record for most people dressed in Star Trek costumes at one location. Hit the jump to learn more about the record attempt and its history.

Breaking the Guinness World Record
The 12th Annual Star Trek Las Vegas Convention again is set to be one of the largest gatherings of Star Trek fans, so one wouldn't think this would be much of a challenge. The magic number needed is 1064 — 1064 Trekkies costumed as any Star Trek character (or object!) that was part five television series or 12 motion pictures. (The sixth series is Star Trek: the Animated Series, but we don't yet have the technology to transform into a cartoon character.) Last year Vegas fans had their chance to break their 2011 record of 1040, but fell short. Destination Star Trek London fans beat them to it, setting a new record of 1063 in October 2012.

Costume record attempt at last year's Vegas con
Star Trek costume record setting is nothing new. Convention cities have been going back and forth in the world record competition — it comes off like a horse race. As each year begins, conventions leave the post, going neck and neck, one event surging forward of the other by a length or a nose. Las Vegas has been alternating costume record attempts with events in London, Tampa, Atlanta and Germany's FedCon. Many other cities make the attempt, but can't come close to the winner's circle.
It All Began With Only 99 Fans
Reports say the origin of the the first title began London in February 2010, with a mere 99 costumed fans. In May 2010, record attempts were made by the Tampa convention and Germany's FedCon with the Europeans taking the honors at 507. But the record would be upset again, as Star Trek Las Vegas counted 543 costumed fans. Atlanta's DragonCon won the year's best with 571. Moving forward to 2011, the title went back across the ocean as FedConXX claimed 691. But in August that year, Las Vegas Trekkies gathered in full force and 1040 costumed fans passed through the doors of the DeForest Kelley Theatre to pull out far ahead of the pack.

The first record attempt with 99 fans at Millennium Bridge in London

507 trekkies at FedCon in Bonn, Germany in May, 2010
Last year, Star Trek Las Vegas fans attempted to unseat their own record, but couldn't top it. Destination Star Trek London's October convention not only attracted all five Star Trek captains to the program, but also drew 1063 costumed fans for the record attempt, and the Guinness World Record moved back to the UK.

British Trekkies queue up in London and break the record with 1063 fans
Next month Las Vegas Trekkies will have the chance to redeem themselves. Some fans have tried to analyze what went wrong in 2012. There has been talk of scheduling and program conflicts. Other important events were happening simultaneously. Other fans complained they were turned away by staff because their footwear or costume didn't meet the requirements. A few have suggested that Las Vegas fans simply lost interest in a second record attempt.
"Star Trek Into Darkness" release this year gives fans a whole new realm of opportunities for costumes and uniforms. Now that another city, country and continent holds the record, maybe there'll be more incentive to bring the honor back to what many Trekkies consider to be the premier convention: Creation Entertainment's Star Trek Las Vegas. What do you think? Can they do it?
Join in at the 12th Annual Official Star Trek Convention in Las Vegas!
Want to help make history? Come to the Las Vegas convention at the Rio All Suites Hotel August 8-11. The world record attempt happens Saturday, August 10th!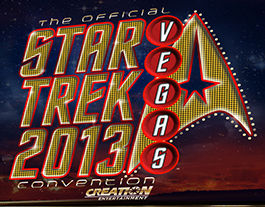 Get your tickets now, and join us in fabulous Las Vegas dressed in your Trek best