The annual Creation official Star Trek convention in Las Vegas is only two days away! It's our favorite time of the year: an entire 4-day weekend filled with Star Trek, parties, shows, and great friends. We've picked out some of our favorite events and panels that you wont want to miss, including TrekMovie.com panels and off-site events! This year, many of the favorite celebs are back, and there are also some rare and first time appearances. See below for celeb highlights plus some of our picks for the most interesting panels exploring behind the scenes and the future of Star Trek.
Official Star Trek Las Vegas Convention 2014
The biggest Star Trek con is back for 2014 and will run from Thursday July 31st to Sunday August 3rd. This year promises over 100 guests with dozens of panels, parties and events, including some from TrekMovie.com. Below are some of our picks for highlights, but you can get the full breakdown at CreationEnt.com. Tickets for the event are still available at the door (no longer online) and start at just $35 or $40/day for general admission. There is also a 'Cadet Training' ticket for only $20/day that allows you into the dealer room and the secondary theater plus some other events.
TrekMovie.com Presents: 2 panels + Screening Event
Panels
TrekMovie.com is back in full force this Vegas con. We are hosting two panels, Captain in Charge? Your Choice! and "We Touched the Future" A look at the impact of Star Trek: The Experience.
It's the age old debate: Kirk or Picard? Or Sisko? Or Janeway? Or Archer? Who is the best Starfleet captain? It's your turn to settle this debate once and for all (or at least until next year's con) at the Battle of the Captains panel. Our panelists will each defend the captain of their choice, and you, the audience, will make the pick by voting on who is the best captain in several categories including but not limited to: Diplomacy, Sex Appeal, and Fighting Skills. Audience participation is the name of the game, and we encourage you to speak up in defense of YOUR captain at the mic.
Panelists will be: John Champion (Misson Log Podcast) for Kirk; Alec Peters (Star Trek Axanar) for Picard; Jared Whitley (TrekMovie.com) for Sisko; Kayla Iacovino (TrekMovie.com) for Janeway; and Joseph Dickerson (This Week in Geek) for Archer. SCHEDULED FOR FRIDAY at 8:50 AM
---
It's been closed for almost six years, but the immersive Las Vegas theme park Star Trek: The Experience still holds a place of high esteem in the hearts and minds of the millions of people who visited it during its ten-year run. Those who were involved in its development, construction, and operation understand why it remains so important to many Trek fans.
This panel will include Larry Nemecek, who will talk about the origins of The Experience; April Hebert, the longest serving employee (an actor who was involved from construction to decommissioning); Vernon Wilmer, the archivist who collects stories and photos from former visitors and employees; and former Experience actors Nicole Padburg and Michael Hartnett. Each panelist will share stories of their own fandom, what working at the Experience meant to them, and how they believe they impacted the lives of their guests.
Also, some audience members (who responded to a call put out on FB and Twitter) will be invited to the microphone to briefly share their stories of the Experience. Whether you were a frequent guest, or never had the opportunity to visit it, you should find this panel enlightening, humorous, and perhaps even touching. SCHEDULED FOR SUNDAY at 5:20 PM
Panelists:
April Hebert – (Vulcan Professor T'Pril, Andorian Commander Tahryn) – The longest serving employee of Star Trek: The Experience
Vernon Wilmer – (Borg Drone Seven of Sixteen) – The Experience Archivist
Larry Nemecek – The Universe's renowned Star Trek authority
Nicole Padburg – (Starfleet)
Michael Hartnett – (Borg Drone Three of Six)
and host Kayla Iacovino (TrekMovie.com)
---
Star Trek Continues Screening
Plus, be sure to get your (FREE!) tickets early for our off-site screening of Star Trek Continues episode 3, "Fairest of Them All" plus a Q&A with special guests: Vic Mignogna (Kirk), Chris Doohan (Scotty), Michele Specht (Dr. McKenna), Wyatt Lenhart (Chekov), Kipleigh Brown (Smith), director James Kerwin, and very special guest Michael Dorn (voice of the Mirror Universe computer).
The FREE showing takes place at the ACM Town Square at 6587 Las Vegas Blvd S., just south of the Las Vegas international airport. The screening begins at midnight (Thursday Night/Friday Morning), but you probably want to show up early to get your tickets, which you can get at the theater on the evening of the event. Tickets are free, just make sure you are one of the first 386 people in line, and you're in! Doors open at 11:10 pm, Thursday night.

Celebrity Panels – including rare con appearances
Four Star Trek Captains
Star Trek Las Vegas will have a lot of your favorite Star Trek celebs back once again to storm the stage and entertain. Look forward to standing room only panels featuring: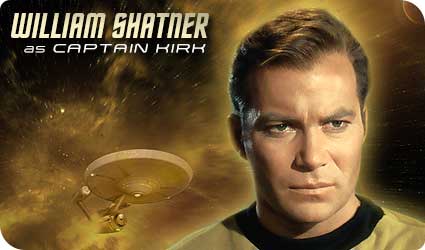 William Shatner (Captain Kirk)
Sunday at 12:55 pm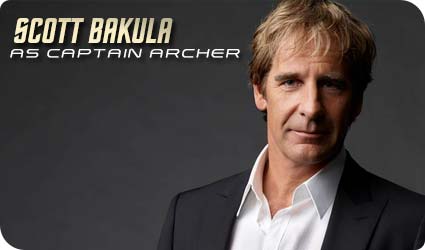 Scott Bakula (Captain Archer)
Saturday at 12:00 pm
On the Creation Close-Up Enterprise: The Xindi Saga panel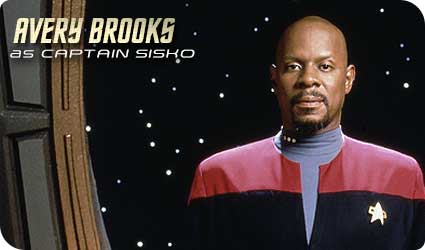 Avery Brooks (Captain Sisko)
Friday at 3:50 pm
On the Creation Close-up event on the classic Star Trek Deep Space Nine episode "The Visitor"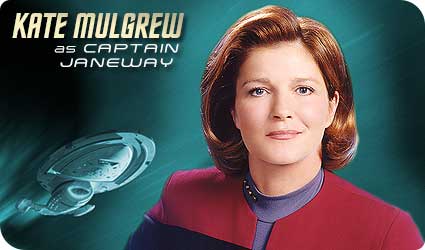 Kate Mulgrew (Captain Janeway)
Saturday at 4:55 pm with the other Voyager stars
Sunday at 9:00 am with her son
…and there are dozens of more celebrity appearances from Star Trek main cast members: Walter Koenig and Nichelle Nichols from the original Star Trek. Brent Spiner, LeVar Burton, Michael Dorn, Marina Sirtis, Denise Crosby, and Gates McFadden from Star Trek: The Next Generation. Colm Meaney, Terry Farrell, Nana Visitor, and Rene Auberjonois from Star Trek: Deep Space Nine. Tim Russ and Garett Wang from Star Trek: Voyager. Anthony Montgomery, Dominic Keating, and Connor Trinneer from Star Trek: Enterprise. And there will be lots of guest and recurring stars, including John de Lancie, Jeffrey Combs, Cirroc Lofton, Scarlett Pomers, Casey Biggs and many more.
Rare Con Appearances:
Star Trek Las Vegas will also feature some guests who aren't regulars at Trek cons.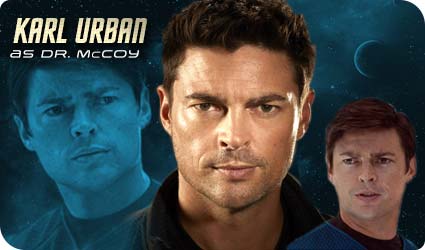 Karl Urban (McCoy, JJ-Verse)
Thursday at 2:10 pm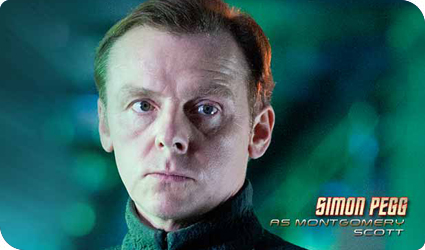 Simon Pegg (Scotty, JJ-Verse)
Saturday at 5:35 pm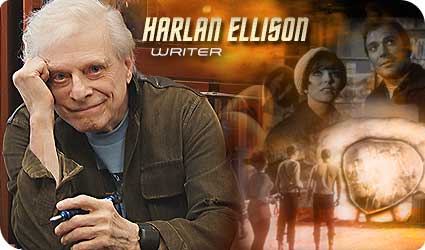 Harlan Ellison
Writer of the classic Star Trek episode "The City on the Edge of Forever"
Thursday at 5:20 pm
Friday at 1:20 pm with Grace Lee Whitney
Sunday at 10:15 am with Walter Koenig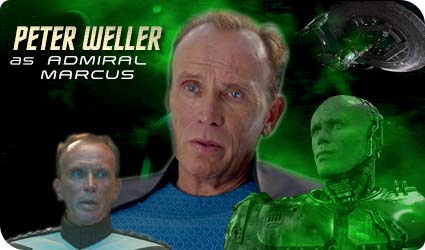 Peter Weller (Admiral Marcus)
Saturday at 10:30 am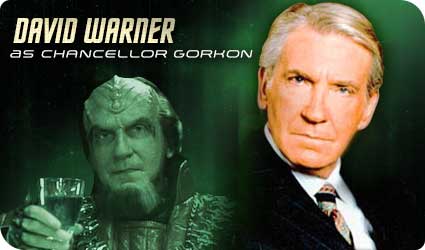 David Warner (Chancellor Gorkon)
Thursday at 4:00 pm

Beyond the Stars – Interesting Non-Celeb Panels
Behind the scenes panels
If you're like us, you are happy to be seeing more and more panels beyond the usual celebrity stars at the Las Vegas convention. These are the panels we truly look forward to. Hear directly from the people who created the heart and soul of Star Trek, from authors to producers, to visual effects.
GEEK MAGAZINE'S TRIBUTE TO TREK: FROM THE CAGE TO DARKNESS featuring Free Enterprise writer/producer Mark A. Altman, Scott Mantz (Access Hollywood, chief film critic), Ed Gross (legendary Star Trek journalist), Robert Meyer Burnett (TNG Blu-Ray's, Free Enterprise), David E. Williams (editor-in-chief, Geek Magazine), Chase Masterson (actress, Deep Space Nine) and other special guests to be announced along with a big surprise announcement. In the secondary theater at 12:50 pm on Saturday.
DOUG DREXLER (Creative mainstay on Star Trek for 17 years in many different artistic capacities) and RONALD B. MOORE (Visual Effects Coordinator and Supervisor who worked on TNG, the movie Star Trek Generations, Voyager and Enterprise). In the secondary theater at 1:30 pm on Saturday.
BRANNON BRAGA (Writer, Producer, Creator) and MANNY COTO (Writer, Executive Producer). In the main theater at 11:15 am on Saturday.
"DAX 539" SATURDAY COSPLAY FOCUS DAY SPECIAL EVENT: MICHAEL WESTMORE. Michael Westmore has been responsible for creating the makeup of your favorite characters. See him transform Terry Ferrell for the first time in public into her beloved role of Dax of Star Trek: Deep Space Nine! In the main theater at 4:15 pm on Saturday.
ROBERT BLACKMAN (Academy Award winning costume designer who worked on The Next Generation, DS9, Voyager and Enterprise, Star Trek Generations and Star Trek: First Contact). In the main theater at 2:45 pm on Saturday.
Trek Merchandise: What's new?
There is a smattering of merchandise/official licensee panels (and booths!) at this year's con. Star Trek Online will have a panel at 2pm on Saturday in the main theater about the future of STO, plus they'll be hosting a "Meet the Devs" from 7—9pm on Saturday.
StarTrek.com is hosting a penal on Star Trek TNG in blu-ray with Mike and Denise Okuda in the main theater at 1:55 pm on Friday.
And you can find out what is coming next in merchandising at the First Look at Trek Treasures panel with CBS executive John Van Citters at 3:30 Saturday in the main theater.
The new web-based game, Star Trek Timelines, will have a panel at 12:10 on Sunday in the main theater.
Plus, IDW Comics will have a booth in the merchandise room with Chris Ryall, Harlan Ellison, and Juan Ortiz (famous for those groovy Star Trek posters).
And of course there will be much more to check out in the merchandise room.
Off the beaten path: Off-site events
Along with the Star Trek Continues screening on Thursday night, be sure to catch the Prelude to Axanar screening and Q&A at the Las Vegas AMC Town Square theater taking place on Saturday night at midnight. Special guests JG Hertzler, Richard Hatch, Executive Producer Alec Peters and Editor Robert Meyer Burnett.
TrekMovie Reporting From STLV
TrekMovie will be providing ongoing coverage over the weekend of the various events. Keep checking TrekMovie.com and @trekmovie on Twitter for daily highlights!