Star Trek: Discovery may be off the air, but there are still bits of news to cover about the show. Today's update has Wilson Cruz talk about his return to the show, schematics for the Discovery phaser and tricorder, Kol's original name, the latest news from awards season and more.
Cruz talks Culber's return
In an interview with Emmys.com, Wilson Cruz talked about the plans Discovery showrunners Aaron Harberts and Gretchen J. Berg have laid out for the planned return of Hugh Culber.
Aaron and Gretchen explained what was gonna happen and told me I was part of the story for next season. This is a longer, epic love story and this is just a part of that that we have to do in order to tell it. I know what that story is and as an actor, I'm really excited about it. But even as a viewer, I think that's gonna be fun to watch!
Closer look at 'Discovery' Starfleet equipment
CBS posted videos on Twitter, with technical schematics of the standard issue phaser and tricorder used on Discovery.  Check them out below.
Starfleet Command standard issue phaser. Type 1. Mark 3. Technical schematic. #StarTrekDiscovery pic.twitter.com/iZcBBgEk37

— Star Trek: Discovery (@startrekcbs) February 26, 2018
Starfleet Command standard issue Tricorder. Technical schematic. #StarTrekDiscovery pic.twitter.com/TLyd5W7E3k

— Star Trek: Discovery (@startrekcbs) February 28, 2018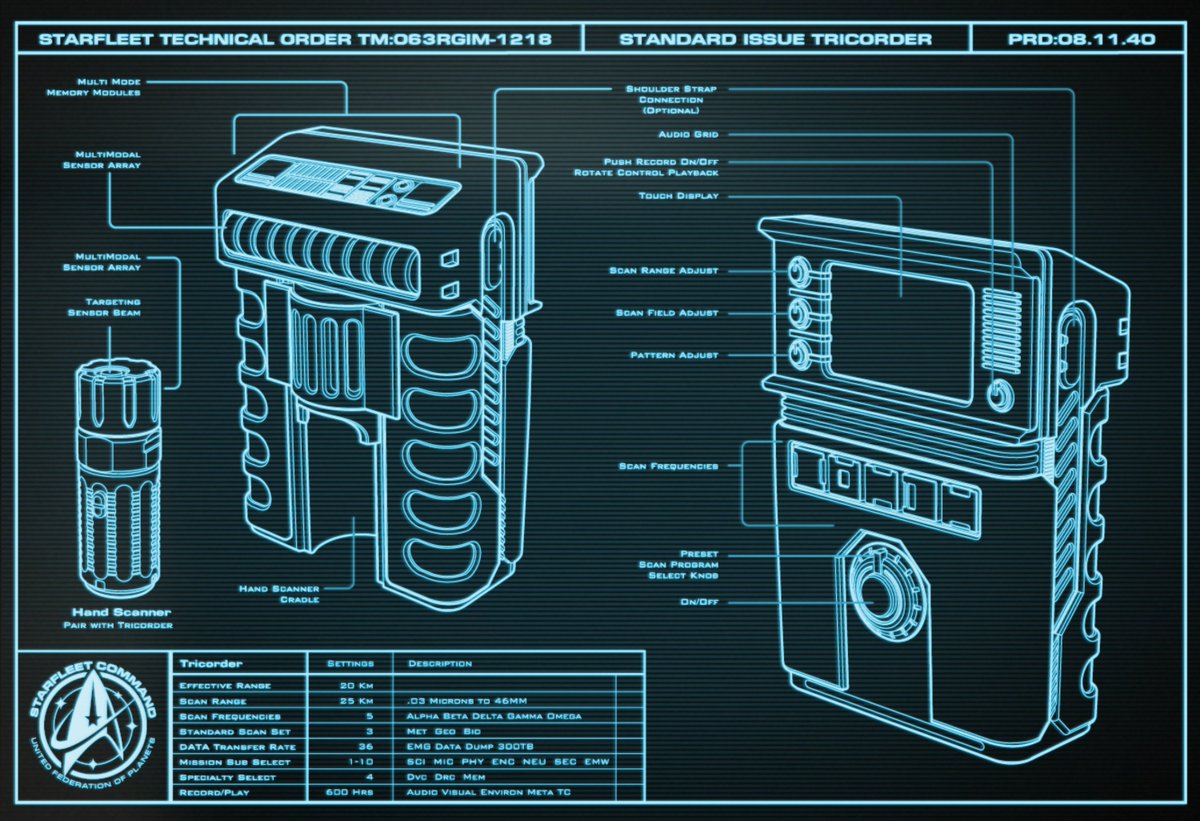 'Game of Thrones' beats 'Discovery' again
Just like at the Visual Effects Society Society Awards, Star Trek: Discovery was bested again by Game of Thrones, this time at the Costume Designer Guild Awards. Discovery actor Wilson Cruz was one of the presenters at the awards held last week in Hollywood and star Sonequa Martin-Green was also in attendance to cheer on Discovery costumer Gersha Phillips. Martin-Green shared a photo of the trio on Instagram.
Mitchell reveals Kol's original name
In an Instagram post from January, actor Ken Mitchell showed off an early design sketch for the look of Kol's costume. He also revealed Kol's original name was "Er'Toom."
Speaking of Ken, yesterday he shared this photo of a Los Angeles night out with his fellow Discovery actors Wilson Cruz (Dr. Culber) and Mary Chieffo (L'Rell) and writers Bo Yeon Kim and Erika Lipoldt.
Fan video of the week: Bang your head to Disco
If you like Discovery and you like metal music, you may like this metal cover of the Discovery theme by 'Captain Meatshield' on YouTube.
More Disco Bits
Here are some of the latest bits from around the web discussing Discovery.
Decider: 'Star Trek: Discovery' Boldly Goes Where No Show Has Gone Before — A Fully Woke Universe.
Comics Verse: Michael Burnham is the Black Heroine We Need.
The Verge: Why can't Star Trek: Discovery stick to serialized storytelling.
Syfy: What Star Trek: Discovery has brought to Trek canon, and where it could venture next
---
Star Trek: Discovery is available exclusively in the USA on CBS All Access. It airs in Canada on the Space Channel and is available on Netflix everywhere else.
Keep up with all the Star Trek: Discovery news at TrekMovie.