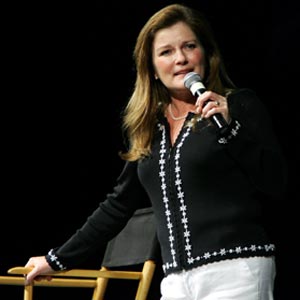 It should be no surprise that people want in to Star Trek XI, here are this week's entries:
Star Trek: Voyager's Kate Mulgrew (Janeway) told a crowd at Vegas Con that not only does she want to play 'Admiral Janeway' again, but she thinks it will happen. Totally Kate reports her as saying: "I think maybe they will do it. This is the fortieth anniversary. Who knows? By the sixtieth all the captains may have come together in some motion picture. With any luck they will." Keep sitting by the phone Kate.
Star Trek: The Next Generation's Jonathan Frakes (Riker) seems to be a fan of Trek XI prodcuer J.J. Abrams, telling Star Trek magazine "I'm addicted to Lost". He also put in a pitch for another shot at the Trek director's chair, telling the mag that he hopes Abrams is too busy to direct (Abrams has said he will probably direct, but he does have a lot of stuff on his plate). After Star Trek: Insurrection, not sure Paramount is ready to hand back the keys.

Abrams pal Greg Grunberg has often spoke about getting a good role in Trek XI, but has recently said the competition is stiff. Now it seems he is getting less picky, telling iF Magazine "I would love to have a big presence and be an evil character. On MI3, it was only four days because it was a movie and such a small part, but it was so great working with everyone, it was a DREAM! I told them, though, that in this one there was no way I was sitting in make-up for eighteen hours for one line. J.J. said 'Sure there is.' And dammit yes I will! I just want any part of it. I'll be on the set, I love to hang out and spend time with him. My money is on Grunberg being the first red shirt to go down.
With these folks and Shatner, Takei, Sirtis, Burton, etc, etc…the line to J.J. Abrams door gets longer every day