It's time again to catch up on the latest related to Star Trek: Discovery starting with some interesting comments from the guy in charge of the show's props. We also have a delicious update from the writer's room, some behind the scenes video with Doug Jones, and more.
Prop master talks about reconciling Discovery with TOS
In an interview with the official Star Trek site, Star Trek: Discovery props master Mario Moreira discussed what it has been like developing all the props for the show, including their approach to developing things using modern techniques that can still fit with the original Star Trek series, set ten years later:
So, we had to look at TOS, watch all the episodes, study the props, really figure out what they had in their technological language, what they used on a daily basis. That said, we've got really cool tools at our disposal now. We've got CNC machines that can create the aluminum shapes that you couldn't do five, 10 years ago. We've got 3D printers that are doing things that we couldn't do three months ago. We're able to create a much higher-tech prop than our predecessors were. That said, the look of our stuff really had to eventually reconcile with where Trek was going to be 10 years from now. We could take liberties. But we were tasked to think, "What is this going to look like 10 years from now, but 200 years from today?"
Moreira also talked about how costume designer Gersha Phillips "wanted to do a general uniform look with the Starfleet uniforms and not represent rank on them," and so the idea came to him in a dream on how to handle ranks in Discovery:
I'm looking at the pips on the collars on The Next Generation. That was an idea, but we couldn't jump over The Original Series because those don't happen until later. I just thought about it a lot, and it was on my mind so much that one night I fell asleep and dreamt about it. I often dream about the props of the shows I'm working on. I was dreaming about the badges, and there were all these little holes in the bottom left hand corner. I woke up and realized, "Oh, we can actually do the pips on the badges."
Of course rank pips on the uniforms were also used on Star Trek: Enterprise, set a century before Discovery.
Schematics of the Discovery communicator
Following on from their tweets about the Tricorder and Phaser, which we covered in our last news round up, CBS also posted the technical schematics for the standard issue communicator.
Starfleet Command standard issue fleet communicator. Technical schematic. #StarTrekDiscovery pic.twitter.com/8VSDMMAaaW

— Star Trek: Discovery (@startrekcbs) March 2, 2018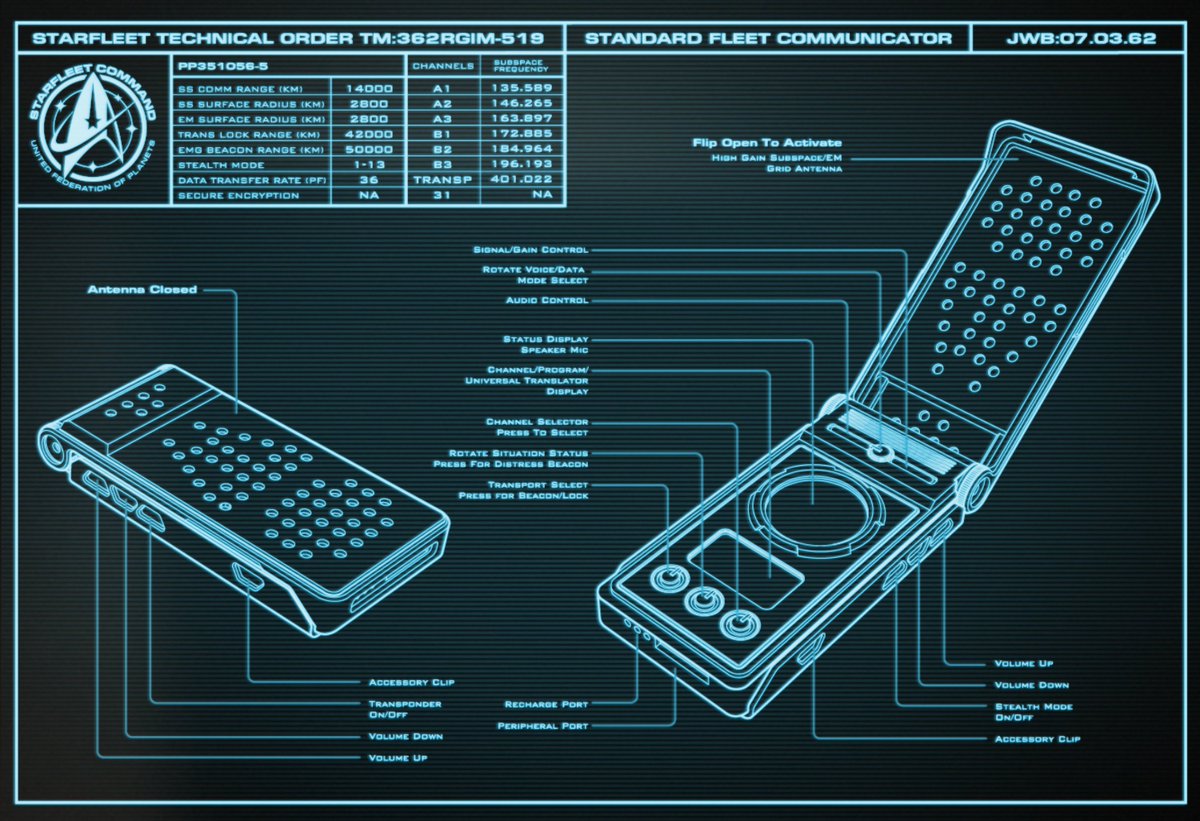 Sonequa Martin-Green knows how to keep the writers happy
Yesterday the Star Trek: Discovery writers room – busy working on season two – revealed they got a special delivery from star Sonequa Martin-Green.
Burnham knows the way to our hearts. Thanks @SonequaMG! 🍪 pic.twitter.com/mCoMIgWlg7

— Star Trek Writers (@StarTrekRoom) March 8, 2018
I love you!! #DiscoFamily #lovebycookie https://t.co/kGdu008chs

— Sonequa Martin-Green (@SonequaMG) March 9, 2018
I finally snapped, broke my diet and ate one. And then duct taped my mouth shut so I wouldn't gobble down the rest #delicious #thankyou

— Ted Sullivan (@karterhol) March 9, 2018
Doug Jones happy Saru makeup only takes 2 hours
In a profile by The Great Big Story, Doug Jones talks about the many different creatures he has played in film and television. In the video below you can also see some behind the scenes on Discovery, where Jones notes that the 2-hour process to transform him into the Kelpien Saru is actually short compared to some of his other roles.
Speaking of Doug, the actor was at the Academy Awards on Sunday where he appeared on stage as The Shape of Water won Best Picture. He shared some photos on Twitter from the night.
A few moments of m sheer bliss from the 90th Academy Awards with THE SHAPE OF WATER, including…
– Huggles & statue groping of @RealGDT 's Oscars.
– Embracing my costar Sally Hawkins.
– On-stage mayhem during Best Picture acceptance.
– Red carpet in my scrumptious @giorgioarmani pic.twitter.com/yP52FtXBCO

— Doug Jones (@actordougjones) March 7, 2018
BTS tweet of the week: L'Rellfool
Mary Chieffo shared this behind the scenes tweet of herself in full L'Rell makeup lip syncing to the Cardigans 90s hit "Lovefool."
#tbt just realized I never posted these on Twitter! 3am shenanigans with @shazad @SonequaMG 🤪❤️😈💫 #StarTrekDiscovery #StarTrekFamily #LoveRhombus #TeamKlingon #WillYouTakeMyHand #Lovefool #SayThatYouLoveMe #BTS @startrekcbs @StarTrek @StarTrekNetflix pic.twitter.com/94ZvW3F0R6

— Mary Chieffo (@marythechief) March 2, 2018
Fan video of the week: TOS end credits for Discovery
One of the notable things about the season one finale of Discovery was that it used the music theme for the original Star Trek with the end credits. Well Leandro Martins on YouTube took that idea to the next level by redoing the end credits of Discovery in the same style as The Original Series.
---
Star Trek: Discovery is available exclusively in the USA on CBS All Access. It airs in Canada on the Space Channel and is available on Netflix everywhere else.
Keep up with all the Star Trek: Discovery news at TrekMovie.